Coastal style evokes easy living, blue ocean, sunny skies, breathing warm, salt air and feeling the pounding drum of the waves on a smooth, sandy shore. Recreating the perfect seaside vacation or a weekend escape to a coastal resort has become a popular interior design motif for those of us who have fond memories of the ocean but don't live anywhere near it. Because many of us find the sound and feel of water soothing, it's an appropriate theme for decorating the one room in our homes that most of us regard as a sanctuary after a busy, hectic day. It is also a great way to decorate a second bedroom, creating an instant holiday mood for your guests.
Coastal décor definitely reflects a specific region and mindset, from the moody grays of the Eastern Seaboard to the vibrant, tropical flavored colors of California's Pacific Coast. Coastal style bedroom furniture is truly eclectic: it can take on the appearance of cottage country chic, the flowing lines and intricate, decorative accents of traditional design or anything in between. The style emphasis isn't as important as feeling as though everyday you're waking up at the beach. Coastal style is a blend of nautical themes, colors and materials culminating in a look that is casual, relaxed and fresh, creating a year-round vacation for the soul. And it's easy to bring coastal living into your bedroom with these few simple design ideas.
Paint by Nature
Coastal style palettes range from vibrant hues like the Lexington Long Cove Middleton Night Stand to earth-toned colors, depending on which coast it takes its inspiration from. Marine blues, sky blues, sandy creams and beiges, sea greens, turquoise and white are common colors for furniture, walls, bedding and accessories. Lighter colors are favored over darker ones but pieces with medium to dark wood finishes are often used as accents or focal points to create visual interest. Painted finishes such as white, lemon and cream, bring a sunny day spent by the ocean into your home, while creating a relaxed environment. Since there are such a range of coastal style palettes, choose one; to give your bedroom a cohesive and tranquil feel, mix and match from different coastal palettes carefully.
Organic Elements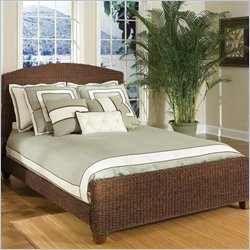 When designing a coastal style bedroom, select natural or organic materials for the furniture pieces in the room. Wood is a good place to start. Bamboo, teak, wicker and rattan are other popular materials for coastal style bedroom furniture. The Home Styles Queen Cabana Banana Natural Woven Bed in Cocoa Finish is certainly an ideal way of bringing a relaxed coastal mood into the bedroom.
Coastal Style Design Elements
Nautical stripes, anchors, shells, coastal birds and starfish are time-tested motifs for accessories and furniture decoration. Tropical flowers and trees are common patterns for bedding and fabrics. As demonstrated by the Stanley Coastal Living Louvered TV Door Deck, shutter or louvered detailing is a popular accent for anything from beds to nightstands to armoires.
The overall appearance of a coastal style bedroom should be relaxed and comfortable. Nothing makes a bed more inviting than a variety of pillows in different shapes and fabrics.
Window treatments should be made of lighter weight fabrics.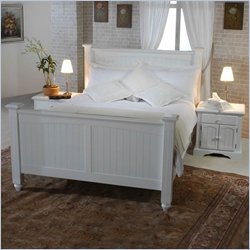 Going coastal can be as simple as pairing a dark woven mirror with a lighter contrasting dresser.
Accessorize with care; spreading your shell collection and other nautical-themed knickknacks around the room can make it appear small and even cluttered or cramped.
For that timeless, lived-in appeal, choose furniture that has a distressed, "worn" or antique look.
Because coastal style can be eclectic, furniture pieces might vary in size and proportion. When purchasing pieces for your coastal style bedroom, make sure that they match one another in scale.
Coastal style can be as casual or as sophisticated as you want it to be. Choose the mood for your bedroom that's right for you.