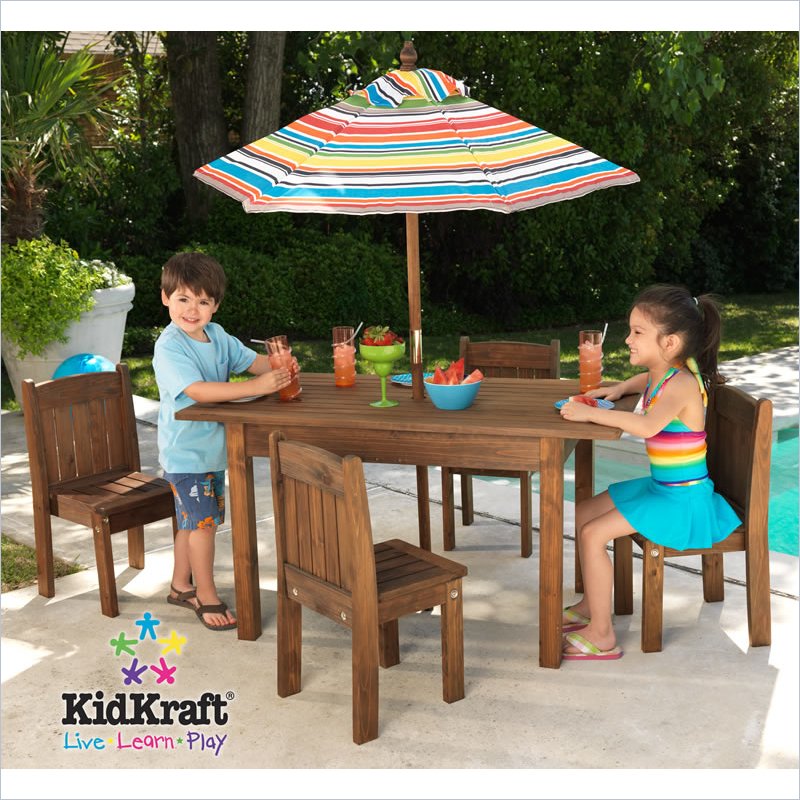 When one thinks of patio furniture, images of lounging poolside and near a backyard BBQ are likely the first images that pop into your mind. Why not include your children and their friends in the patio furniture plan? A happy quiet kid sipping smoothies will help make your outdoor time a little less stressful. During your next backyard BBQ, your neighbors' children will love having their own table with an umbrella, just like the adults. Childhood is all about doing what the big people and a child-size patio set will help.
KidKraft specializes in creating attractive and durable children's furniture. The company was founded by engineers which means that their outdoor furniture is constructed with high integrity. That translates into weathered durability, even for a house full of little boys.
With this child-sized patio set, the chairs are easily stackable for the quiet times when they are visiting Granny. Fold the UV-coated umbrella down and store it in the garage rafters during the winter, and bring the table indoors for the big family feasts. Kids love to have a place of their own where they can enjoy a refreshing glass of lemonade underneath the shade of a brightly patterned patio umbrella.